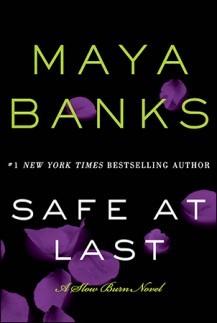 The third book in the beloved #1 bestselling author's sexy, romantic suspense Slow Burn series…
They say young love doesn't last, but a girl from the wrong side of the tracks with unique abilities and the hometown golden boy were determined to defy the odds. For Zack Covington, Anna-Grace—his "Gracie"—was the one. Until one night forever alters the course of their future, when a devastated Gracie disappears without a trace, leaving Zack to agonize over what happened to the girl he loved. As the years pass, his desperate efforts to find her uncovered nothing.
Now working for Devereaux Security, he stumbles across a painting featuring a special place only he and Gracie would know. The image is too perfectly rendered for it to be coincidence. His Gracie must be alive. When he finally tracks her down, he is shocked—and heart-broken—to discover the wounded shell of the girl he once knew and still loves. Her psychic gifts are gone, and worse, she believes he betrayed her all those years ago.
Zack has enemies, and once his weakness is discovered, Gracie becomes a target for revenge. He'll have to save her before he can earn her trust and her love. And he vows they'll never be torn apart again.
Safe at Last was the first book I've read from Maya Banks and it will not be my last.
I felt the story was a well written and enjoyable read. The emotion the author is able to pull out in this story is amazing. I'm not that big a fan of sad stories, and this one definitely counts as both sad and intense. But I am glad that I read it because it's not often I read books dealing with serious issues like this one.
The novel is driven by the story and the characters discovering things that occurred in their past and I found that very refreshing, but I was missing the action and romance. It was a little slow for my taste and had a lot less romance than I hoped it would. I enjoyed the heroine, Gracie, having special powers. I really wish they were used/talked about more in the story though. (This is why this was a four star read instead of a five star read. I hear romance/action and the women's special powers play a bigger part in the previous novels, so I will definitely be picking them up.) But in the place of the hardcore romance was a bit of suspense and mystery. This really helped with the flow of the story because it made me want to keep reading.
My second favorite thing about this book besides the writing is the characters. I found all of the characters really intriguing, especially the other women and their talents. I'm really interested in picking up their books and finding out more about them.
Safe at Last is a heartbreaking and sweet story about a second chance at love. (With a beautiful HEA) I recommend it to Maya Banks fans and anyone who likes slightly dark second chance love stories!
I really hope Eliza and Wade's book is next!
4/5
Thank you to the publisher for sending me a review copy of Safe at Last!